Whether you are looking for printed or carved signs, I can help!
Printed paper signs up to 13″ x 19″ are produced in-house. Larger signs are designed in-house and sent to a local print shop for printing. I also have a small CNC router capable of creating carved signs signs 24″ wide by 96″ long. Multiple panels can be combined to create even larger signs. The example below shows the process I used to create trail signs for a local town forest.
Sharon Town Forest Trail Signs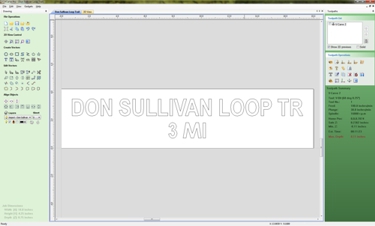 Step 1: Create the Design
Once I was provided with the trail names and distances, I laid them out in the design software. Trail signs are pretty basic. Much more complex designs are possible.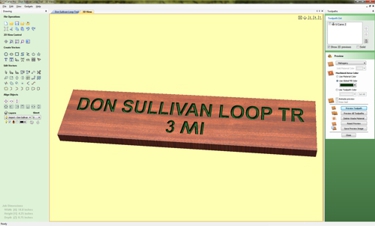 Step 2: Preview the Results
The design software will then simulate the cuts and display the results in 3D. I sent this image off to the customer for final approval.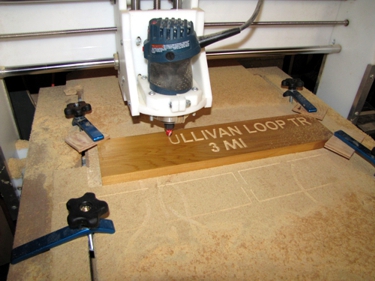 Step 3: Cut the Signs
Once the 3D preview was approved, I converted the design into the "g-code" language the CNC router speaks and set the router on its way. Shown here, the first sign is almost complete.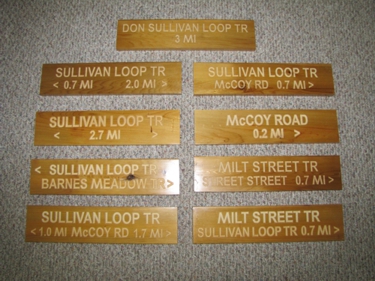 Step 4: Deliver the Finished Signs
In this case, the customer chose to paint the finished signs themselves. They will leave the faces of the signs natural and fill in the letters with a dark color to make them stand out from a reasonable distance.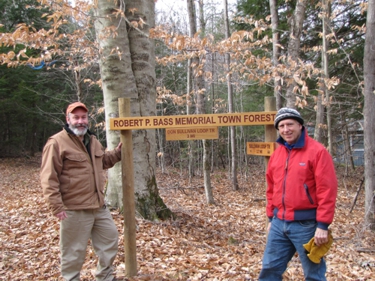 Step 5: Admire the Results
In late November, I hiked the trails with a representative of the town conservation committee to see the finished signs in place. They took my advice in selecting a russet red paint for the letters. It makes the letters pop while still blending in with the colors of the forest.